Hammer drill bit with 4 cutting edges combines speed and long life
Multicutter for concrete and rebar
Extremely robust head with 4 edges for long life
Embedded carbide head for extreme resistance on rebar and powerful drilling progress
Exceptionally fast
Optimised head and flute design for highly efficient dust removal and minimised blow out effect
Lowest vibration thanks to computer designed flute for comfortable drilling
Easy positioning thanks to center head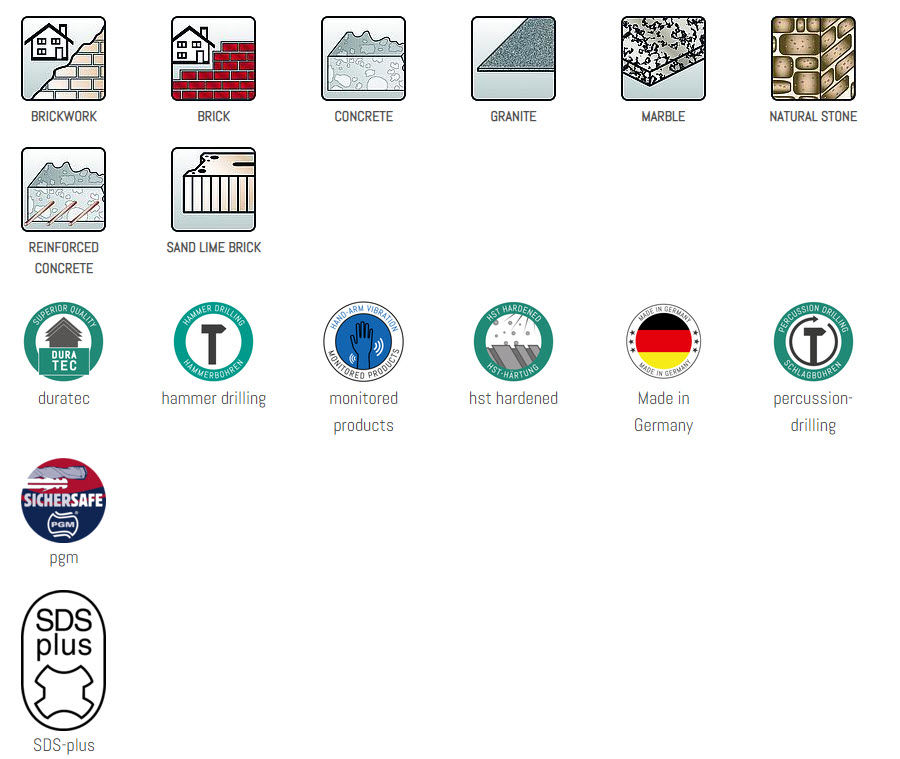 DuraTec hardening technique by means of high-temperature soldering and shot-blasting technology.

Hammer drilling in concrete, sand-lime brick, natural stone, brickwork, clinker.
Heller is the first manufacturer specialising exclusively in drill bits to test its products in an independent institute for the adverse effects of drilling vibration. If a rotary hammer is integral to the application, it can be expected that so-called "hand-arm vibration" could have some form of long term effect on the users health. The "EU Vibration Directive 2002/44/EC" aims to help, in that it stipulates the maximum vibration to which users may be exposed. Lowvibration power tools are called for in addition to low-vibration techniques – but low-quality drill bits can also have an adverse effect. Low cost, poorly designed drill bits can reserve the effect of low vibration power tools. Heller drill bits demonstrated optimal effectiveness and extremely low vibration in the practical tests. In fact, they even distinctly reduced vibration.

The special technique of hardening by blasting makes for the perfect surface finish: the probability that a Heller hammer bit will break under very high loads is extremely low – even on impact with reinforcements. Ideal, especially with long dimensions: HST hardening guarantees high bending flexibility without breaking.


Percussion-drilling in concrete, sand-lime brick, natural stone, brickwork, clinker.

All drill bits by Heller have the independent PGM certificate, assuring safe connection systems.